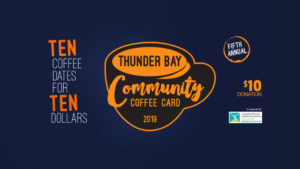 THUNDER BAY, ON (DECEMBER 7, 2018) – Eleven local coffee houses are joining forces for the 5th annual giving campaign to offer a unique stocking stuffer that brings people together during the holiday season, to take time during the year to enjoy a mental health break and raises money for the Canadian Mental Health Association Thunder Bay Branch.
The $10 Thunder Bay Community Coffee Card is good to fill 10 cups of coffee at each participating establishment. The idea is that the card is redeemable when used to buy two beverages at the same time. Card holders are encouraged to invite a family member, friend or colleague to join them for a social/mental health break. The goal is to help fight the loneliness, overwhelming stress, and feelings of isolation that can occur during the holiday season.
"We get it! Holidays season can be stressful and some days we need more than a cup of coffee to get us through the day. But we need to remind ourselves, that despite the things we've been through, it's ok to talk about it. We want people to take a mental health break, slow down and enjoy each other's company," said Brian Hamilton, owner of the Bean Fiend and spokesperson for the 11 Coffeehouse collective. "The holidays are supposed to be about enjoying time with those closest to you and these cards are a gentle reminder of that."
Only 1,000 cards are available with all proceeds going to CMHA Thunder Bay Branch. Since 2015, the initiative has raised $25,150 for vital CMHA educational and mental health training programs.
"We can't thank Brian and the rest of the coffee shop owners enough for not only supporting our organization with this campaign but also for encouraging mental health wellness in our community during this busy time of year," said Jennifer Hyslop, Director of Program Services, CMHA Thunder Bay Branch. 
 The Thunder Bay Community Coffee Card is available at the following locations.
Bay Village Coffee, 221 Bay St.
The Bean Fiend, 194 S. Algoma St.
Calico Coffee House, 316 Bay St.
Club Cappuccino, 595 W. Arthur St. (Brentwood Village Mall)
Freeks & Geeks, 516 Victoria Ave. E.
The Seattle Coffee House, 588 Arthur. St. W.
Sweet Escape, 271 Bay St. Unit 2
The Sweet North, 10 South Court St.
Up Shot Coffee House, 111 May St. S.
The Habit, 308 Red River Road
International House of Tea, 205 South Algoma Street
For more information, visit http://www.getrealtbay.ca/
-30-
Media Contact(s):
Brian Hamilton, Owner, Bean Fiend Café
M: (807) 251-2551
Kristina Baraskewich, CMHA Thunder Bay Branch
M: (807) 472-7034