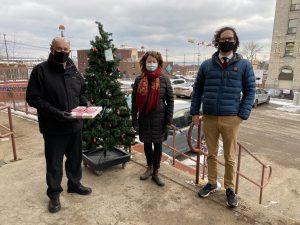 THUNDER BAY, ON (December 18, 2020) – Russel Metals Inc. and its subsidiary Thunder Bay Terminals Ltd. today gifted Canadian Mental Health Association Thunder Bay Branch, with $10,000.00 in honor of the family of a local employee who lost their son tragically to suicide. The gift of $10,000.00 will be directed to help fund subsidized Applied Suicide Intervention Skills Training (ASIST) under the Canadian Mental Health Association's education and training programs to help reduce the stigma around mental health issues our community faces as well as opening a dialogue for suicide prevention and intervention.
Russel Metals decided the gift was extremely important when learning about the Strandberg's family loss this year. George Strandberg, General Manager of Russel Metals wholly-owned subsidiary Thunder Bay Terminals Ltd. is encouraging open conversations about suicide and to raise awareness in the hopes of preventing others from suffering the same fate their family has faced this past year.
"Our son Ryan was talented and loved by his friends and family members. Yet he felt alone in his struggles. Despite our fervent efforts to get him help, he slipped through our grasp. We had to come to terms with the most brutal outcome for a parent: we could not save him. Our family realized that we had a story to tell relating to mental health awareness and suicide prevention. Together, we never thought our son's life would end like this. But we feel by talking about it, we're breaking down the barriers of stigma, opening doors to having conversations about mental health issues and showing how it affects us all," states Strandberg.
"George is part of the Russel Metals family in Thunder Bay. When we learned about his tragic loss, immediately we wanted to be there to: first, support George and his family and secondly we wanted to do something to assist others in the area who may be struggling with mental health issues in memory and honor of Ryan Strandberg," explains Ryan MacDermid, Vice President of Russel Metals
The $10,000.00 donation will go to help community members from across the region who rely on the mental health expertise that Canadian Mental Health Association Thunder Bay Branch provides.
"The money will be allocated to provide free ASIST workshops that emphasizes suicide first-aid. It provides information on how to help a person at risk stay safe and seek further help" states Jennifer Hyslop, CEO, Canadian Mental Health Association Thunder Bay Branch.
"We are so grateful to Russel Metals, its subsidiary Thunder Bay Terminals and the Strandberg family willing to share their tragic story to help others know they are not alone and how important it is to continue the conversation about suicide, the funding provided will allow us to deliver vital suicide educational programming especially during the current pandemic as we have seen suicide ideation and suicides rise in our region due to added stressors, uncertainty, social distancing measures and overall mental health being compromised," continues Hyslop.
Life-saving interventions through ASIST training will commence in 2021 at the Canadian Mental Health Association Thunder Bay Branch in honor of Ryan Strandberg. During this two-day workshop participants will learn to recognize invitations for help, reach out and offer support to loved ones, learn to review the risk of suicide, apply a suicide intervention model and help link people with community resources.
-30-
For more information contact:
Kristina Baraskewich
C: 807-472-7034
E: kbaraskewich@cmha-tb.on.ca