CMHA Thunder Bay is very excited to share with the North West Community Mobilization Network/Thunder Bay Situation Table was the recipient of the 2018 Mayor's Community Safety Award for Outstanding Community Project!
It is an honor to accept the award on behalf of the North West Community Mobilization Network with the Co-Chairs of the Thunder Bay Situation Table, Paola Facca and Rochelle Lee, during last night's ceremony.
Here is a link to the video that was shown during the ceremony: https://www.youtube.com/watch?v=6ULSozAnuGM
Thank you and congratulations to all community partners from the health, justice, education and social service sectors who are a part of the North West Community Mobilization Network. Your ongoing commitment and dedication to this project, and willingness to work together in partnership and collaborate, are what contribute to making this a truly outstanding community project, and one I feel so much gratitude to be a part of. This award re-affirms that our Network is having a positive impact and better supporting people with complex needs in the City and across the Northwest region.
On behalf of the Network, thank you to the City of Thunder Bay for this recognition and support, as well as the Crime Prevention Council and the Thunder Bay Police Service who sponsored this award.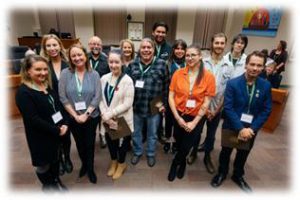 ———–
https://www.thunderbay.ca/en/city-services/2018-mayor-s-community-safety-awards.aspx
https://www.cbc.ca/news/canada/thunder-bay/thunder-bay-community-safety-awards-1.4893454
https://www.cbc.ca/news/canada/thunder-bay/2018-tbay-safety-award-1.4892220