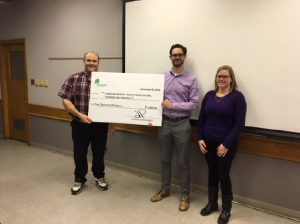 From left to right: Kevin Moriarty – labour co-chair of Resolute's joint health and safety committee (JHSC), Neil Irvine – chair of Canadian Mental Health Association (CMHA) Thunder Bay and Ashleigh Marchl – a member of Resolute's JHSC
On November 20, 2018, members of Resolute Forest Products' Thunder Bay joint health and safety committee and management team proudly presented a $5,000 cheque to the Canadian Mental Health Association's Thunder Bay branch.
Through Resolute's Board of Directors Safety Award program, the Thunder Bay pulp and paper mill recently earned $15,000 to donate to charitable/community organizations chosen by its employees for achieving 1,250,000 consecutive hours without a single recordable injury. The money generated by this significant workplace safety milestone has been distributed equally among three worthy local charities.