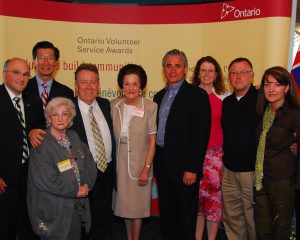 Shirley volunteered for well over 30 years at the CMHA Thunder Bay Branch in a number of capacities. As an ardent supporter of Mental Health and of the Thunder Bay Branch, in particular, she chaired numerous committees at the Board level during her time. Shirley will be best known for her commitment as Chair of CMHA Thunder Bay's capital campaign and instrumental in securing over 400K for construction of our Van Norman Street building.
Shirley's interest in and genuine concern for mental health initiatives were evidence in all her charitable endeavours, and her multiple projects knew no bounds. She was a champion for CMHA fundraising events such as tag days, Billboard Rescue, soliciting grants from local service clubs, organizing the Society of Excellent Men, as well as our Styles and Smiles events.
Shirley, an advocate for mental health who was ahead of her time stated "The biggest obstacle facing those with a mental illness is misunderstanding. They have long been the subject of discrimination, rejection, and ridicule in our society. This stigma is described by individuals with a mental illness as more destructive than the illness itself."
On behalf of the Board, staff, and members of CMHA Thunder Bay, we extend our deepest condolences to the family. We are filled with gratitude for knowing Shirley and will remember her legacy as a champion of Mental Health for All.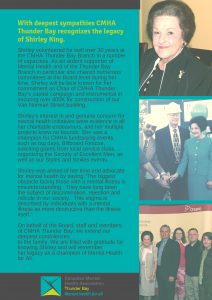 To view the full write up on Shirley King, please click Shirley King Tribute_Final