You are currently on the:
CMHA National
Visit our provincial websites
FREE In the Know Workshop for Farming Community Now Open
Aug 26, 2021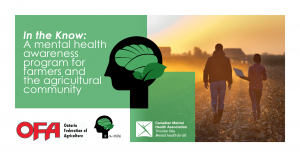 We know that drought has caused many challenges for Thunder Bay area farmers. CMHA Thunder Bay is pleased to offer In the Know, a #MentalHealthAwareness training program specifically for the farming community. In the Know aims to build mental health knowledge and increase help-seeking among farmers. The course provides education on topics such as stress, depression, anxiety, substance misuse and how to start a conversation around mental well-being.
Our first FREE training is set for:
Date: September 2, 2021
Time: 10am to 2pm.
Location: 200 Van Norman St, 2nd Floor (in person) or Zoom link provided for virtual seats
We will be offering 12 in person seats and unlimited number of online virtual seats to registrants. To register for for free and to choose your in person or virtual seat, please call 807-345-5564 by September 1.