You are currently on the:
CMHA National
Visit our provincial websites
New Foundations Program Update – Intake and Member Services Available
May 7, 2020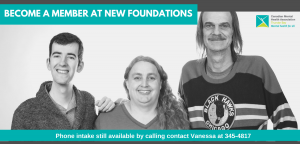 Although the New Foundations day program continues to be closed during this time, they are still available to provide information and support to its members.
New Foundations provide employment, education, social recreation and rehabilitation, housing support, advocacy, and brief case management for people with mental health issues as they work towards their recovery goals.
Program participants and staff work together in a structured program. Each individual self directs their own recovery journey through active participation. The ability to develop meaningful relationships, enhance skills, and to connect with resources are experienced through a wide variety of opportunities. The skills, talents, creative ideas, and efforts of each person are valued and encouraged each day. By trying new experiences in a safe, inclusive environment, respect is ensured to each individual as they work toward their recovery goals.
For anyone who has an interest, in our New Foundations program and becoming a member please, contact Vanessa at 345-4817. We will arrange a phone intake with and move forward with connecting you to a worker who can assist via phone until our program re-opens!
For anyone looking for mental health information in general or other CMHA services, contact Vanessa at 345-4817. In these days of physical distancing, we are learning that we don't have to be close to feel close. We are together, even when we're apart. Everyone needs emotional support at the best of times. We are here to help!