You are currently on the:
CMHA National
Visit our provincial websites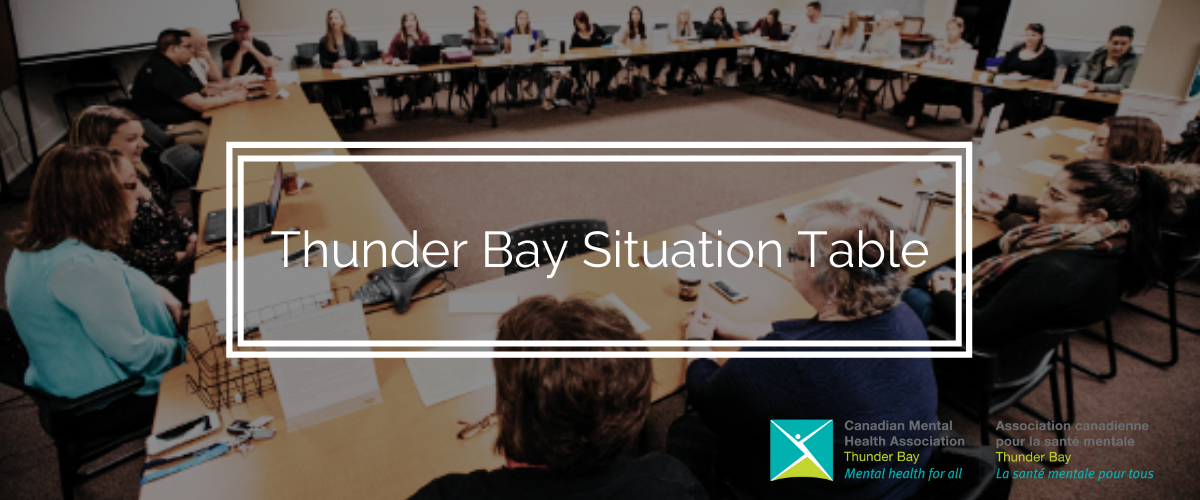 Thunder Bay Situation Table
The Thunder Bay Situation Table was established in 2017 in response to a recognized need to coordinate resources and services, and plan more effectively for people with human service needs who are at risk of offending, criminalization, victimization or harm.
PURPOSE
The purpose of the Thunder Bay Situation Table is to bring together a diverse spectrum of service providers to collaborate and mobilize appropriate short-term interventions to address situations of Acutely Elevated Risk (AER). The three primary areas of emphasis for the Thunder Bay Situation Table include:
Provide timely, collaborative, responses to situations of Acutely Elevated Risk (AER).
Gather de-identified data related to situations of acutely elevated risk.
Encourage collaboration, strengthen relationships, and build trust and respect between community service agencies.
OBJECTIVES
Increase community safety and well-being by responding to situations of AER before crisis occurs.
Efficiently and effectively develop collaborative, multi-disciplinary interventions.
Ensure situations that do not meet the threshold for AER are responded to outside of the Thunder Bay Situation Table
Share valuable information and informed input to the Northwest Centre of Responsibility that has the potential to enhance Situation Table discussions and enhance community planning (i.e. opportunities, barriers, recommendations, post-intervention satisfaction).
WHAT IS ACUTELY ELEVATED RISK (AER)?
Acutely Elevated Risk (AER) refers to "a situation negatively affecting the health or safety of an individual, family, group, or place where there is a high probably of imminent and significant harm to self or others. The risk factors contributing cut across multiple human-service disciplines."
The 'acute' nature of these situations is an indicator that threatening circumstances have accumulated to the point where a crisis is imminent, new circumstances have contributed to severely increased chances of victimization, and/or any effort to mitigate victimizations requires a multi-agency response.
FOUR FILTER APPROACH
The Ministry of the Solicitor General has contributed significantly to guidelines for managing privacy protection at Ontario Situation Tables. The Ministry encourages compliance with the Four Filter approach at Situation Tables in circumstances where consent is acquired as well as in circumstances where consent is not acquired.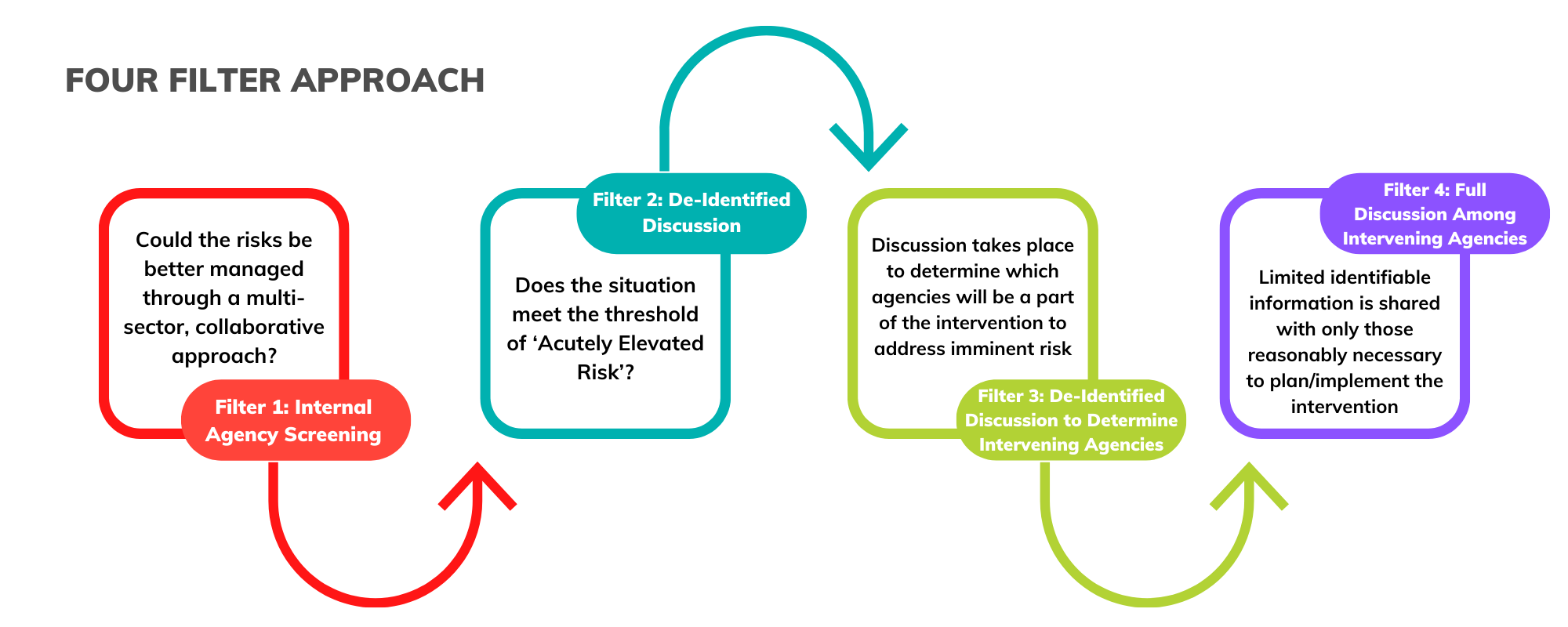 Resources:
WILFRED LAURIER SITUATION TABLE TRAINING
THUNDER BAY SITUATION TABLE DOCUMENTS
---
Current Member Agencies:
Alpha Court
Anishinabek Police Services
Beendigen
Brain Injury Services of Northwestern Ontario (BISNO)
Canadian Mental Health Association, Thunder Bay
Catholic Family Development Centre
C'Entrelles
Children's Centre of Thunder Bay
City of Thunder Bay – Youth Inclusion Program
Community Services for Independence (CSI) Northwest
Community Living Thunder Bay
Dilico Anishinabek Family Care
Getting Appropriate Personal and Professional Services (GAPPS)
Hospice Northwest
John Howard Society
Kairos Community Resource Centre
Keewaytinook Okimakanak
Lakehead Public Schools
Lakehead University
Lutheran Community Care
Matawa First Nations
Northwestern Ontario Women's Centre
Ministry of Children, Community and Social Services – ODSP
Ministry of Children, Community and Social Services – Youth Justice Programs
Ministry of the Solicitor's General – Thunder Bay Probation
Norwest Community Health Centre
Ontario Disability Support Program
Options Northwest
Ontario Addiction Treatment Centre (OATC)
Ontario Native Women's Association
Our Kids Count
St. Joseph's Care Group
Superior North EMS
Thunder Bay Catholic School Board
Thunder Bay Counselling Centre
Thunder Bay Children's Aid Society
Thunder Bay District Health Unit
Thunder Bay District Social Services Administration Board (TBDSSAB)
Thunder Bay Police Services
Thunder Bay Regional Health Sciences Centre – Adult Mental Health
Thunder Bay Sexual Assault Centre
Tibishkogijog Mental Health and Consulting
YES Employment
---
NORTHWEST REGIONAL SITUATION TABLE COMMUNITY OF PRACTICE:
Open to all members of any Situation Table in Northwester Ontario. Meetings are held bi-monthly and include information sharing, identification of training needs, Q & A. The community of practice also includes an online community forum. Please contact the Coordinator for more information about joining the Community of Practice.
COORDINATOR CONTACT INFORMATION:
Jenny Leadbeater – Coordinator, Thunder Bay Situation Table and Northwest Community Mobilization Network
(807) 630-2272